Auckland、2021年11月23日8時の天気は曇り
おはようございます
オークランドは曇りで肌寒い朝です
天気予報は曇り、夕方にわか雨
Auckland TODAY
Cloudy periods. Evening showers as southwesterlies change northeasterly, possibly heavy.
High: 23℃
Low: 16℃
sunrise 05:57am
sunset 08:18pm
Covid 19: New research suggests Delta strain 'drove itself to extinction' in Japan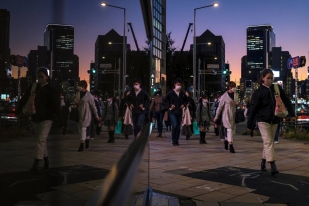 https://www.nzherald.co.nz/world/covid-19-new-research-suggests-delta-strain-drove-itself-to-extinction-in-japan/Q37746Q7NJS3W4XXTQYC4BGDOA/
Incredible new data out of Japan has left experts convinced the nation of 125 million has successfully eradicated the Delta variant of Covid-19.
New research out of Japan's National Institute of Genetics suggests the strain drove itself towards a "natural extinction" there after several mutations led to it being unable to make copies of itself.
The tightly packed Japanese population has been on high alert since the beginning of the pandemic, especially after the highly transmissible Delta variant broke through its borders in 2021.
During the peak of its fifth wave, Japan was recording around 26,000 cases per day as countries around the globe, including New Zealand, reintroduced strong lockdowns to squash the Delta curve.
NZHerald紙
今日も良い日でありますように!
にほんブログ村
Auckland Today FC2ランキング
| 天気 | 08:49 | comments:0 | trackbacks(-) | TOP↑